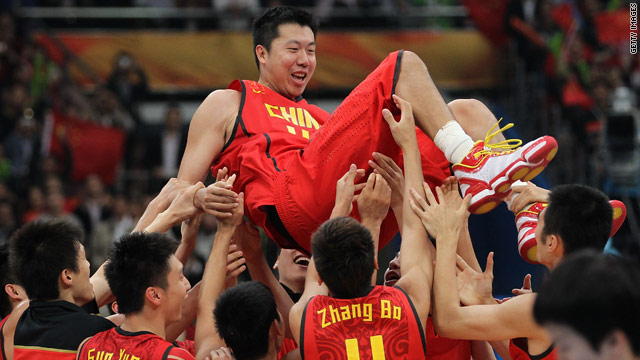 (CNN)
-- China smashed its record for most gold medals at the Asian Games on Friday, and capped the achievement by retaining the men's basketball crown.
The host nation's athletes started the penultimate day of action in Guangzhou one title short of the 182 achieved in Beijing in 1990, which Zhou Yu leveled with victory in the women's kayak singles 500m event.
Feng Lanlan then claimed gold in the women's 68kg karate event, and China went on to finish the day with 197 in total -- 122 ahead of second-placed South Korea.
Japan, which won gold in the men's volleyball, was third on 48.
On Wednesday, China eclipsed its record of most overall medals at one Asian Games and has now extended that to 412.
China defeated South Korea for the second time in the men's
basketball
competition on Friday, winning the final 77-71 to follow up the team's 76-66 preliminary-round success.
Veteran center Wang Zhizhi, the first Chinese player to feature in the United States' NBA competition back in 2001, top-scored with 20 points.
Ding Jinhui and Sun Yue contributed 14 points each while semifinal hero Wang Shipeng -- whose late three-pointer sealed a 68-65 win over Iran on Thursday -- netted 10 along with Liu Wei.
Guard Yang Dong-geun was South Korea's top scorer on 17, while Kim Joo Sung and Cho Sung-min added 14 each.
It gave China a basketball double, with its women winning the title for the third successive time on Thursday with a 70-64 victory over South Korea.
China won three more medals in
boxing
to push India into second place in the sport, as Zou Shiming retained his men's 49kg title and Dong Cheng and Li Jinzi won women's categories for a clean sweep in the female divisions.
China also completed a clean sweep of the
diving
events, with Cao Yuan's victory in the men's 10-meters platform its 10th overall.
Bangladesh won a historic first Asian Games gold, beating Afghanistan by five wickets in the final of
cricket's
inaugural Twenty20 event.
In the semifinals, Afghanistan upset the favored Pakistan -- who beat Sri Lanka for the bronze on Friday.
In
track and field
events, China won the prestigious 4x100m men's relay for the first time in 20 years ahead of Taiwan and Thailand, with the home team anchored by the distance's individual winner Lao Yi.
But China had to settle for silver in the women's event, with Thailand claiming victory and Japan the bronze.
Bahrain's Bbilisuma Shugi Gelassa added the men's 10,000m to his 5,000m from Sunday, while compatriot Mimi Belete Gebregeiorges triumphed in the longer women's race.
Saudi Arabia also claimed two gold medals to join Bahrain on five overall, with its men's 4x400m relay team victorious along with shot-putter Sultan Aboulmajeed Alhabashi.
India won the women's 4x400m event to claim its 14th gold, for sixth place behind Kazakhstan (18) and Iran (20).
Japan's Yukifumi Murakami won the men's javelin while Uzbekistan claimed gold as Svetlana Radzivil won the women's high jump.
In the final day of competition, the men's and women's marathons will be contested.