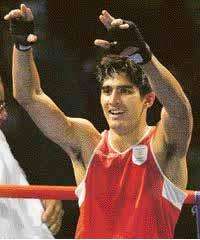 Vijender Singh
As Vijender Singh entered the ring for the men's middleweight final against Uzbekistan's Abbos Atoev on Friday, he had many personal demons to slay.
He had his No 1 ranking to defend, the 2009 world championship semifinal loss to avenge and to end the gold medal jinx.
The task was difficult though. After all the man in front of him was a two-time world champion.
But Vijender proved himself on all counts. His fight against Atoev will go down as one of the bravest acts in Indian sports annals.
The Indian boxer virtually fought the major part of the battle with one hand.
It was a tribute to the Haryana boxer's valour that except for his coaches at the ring side, GS Sandhu and BI Fernandes, not a single person at the Foshan Gymnasium had any inkling during the entire duration of the final that he was fighting with a broken left thumb.
It was a nightmare of a start for the Indian as in the first round an attempted right hook by Atoev landed on Vijender's left thumb, dislocating it, and though a chill ran down the Indian boxer's spine, he showed no signs of it.
"At the end of the first round itself, he immediately told us that he had hurt his left thumb and he was in deep pain. The most important thing at the moment was not to allow his morale to sag. We just kept boosting his confidence and told him not to show any signs for the opponent camp to sense anything was amiss," coach Sandhu said.
X-rays later revealed that he had suffered a dislocation at the base of his left thumb.
The brave heart boxer put up such a world class show that if anything was amiss, Atoev's camp had no chance of knowing it. It was a stunning act of bravery as for the entire second and third round, Vijender was seen attacking only with his right hand. He didn't give the Uzbek any chance whatsoever as he outclassed him 7-0 to prove that he deserves the No 1 ranking.
The performance was a treat to watch as the Indian was at his best both tactically and technically. Vijender was smart and sharp, quick to get away from Atoev's punches while not missing any opportunity to land his punches.
Vijender himself was delighted: "I am very happy to win in China. I used my height and reach to good advantage. It's a dream come true after the disappointment at the Commonwealth Games for which I had prepared very hard."