Watch Video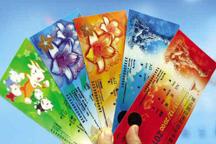 Another round of ticket sales for the Asian Games is about to take off. Fans are getting ready to bid for stage 3 tickets for the action in Guangzhou next month.
The first and second stage of ticket sales are now finished, and Games officials say the third stage will get underway on October 25th. Spectators can buy the tickets at more than 400 branches of the Industrial and Commercial Bank of China. A total of 71 ICBC branches are located in the Games' main site of Guangzhou.
Opening ceremony staff prepare for big day
Workers for the Asian Games opening ceremony are also getting ready to perform. There's now less than a month to go before the big day. Four giant white sails can be seen on the practice site, and people can hear the music that will play a big part in the show. The performers and support staff started training camp on September 20th. The details surrounding the opening ceremony are closely held secrets.
Athletes village opens for games testing
Guangzhou Games organizers say all the accommodation and recreation facilities are in place at the athletes' village. They are making sure the village buildings are ready for Guangdong province's often wet weather. All of the accommodation facilities are built on stilts. Planners say they are prepared to meet any challenges they might face for the Games.