Former Philippine Sports Commission (PSC) chairman Harry Angping said that he hopes the person who would replace him would concentrate in recruiting young athletes for international competitions.
"We are running short of athletes. We have a big shortage of athletes," said Angping.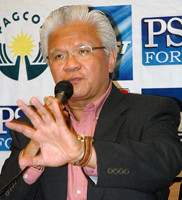 Angping said that the current elite athletes — not more than 20 — are good for at least a bronze medal in the 2010 Asian Games in Guangzhou, China but will be good enough only until the 2011 Southeast Asian Games in Indonesia.
"We have athletes who are in their late 20s up to 35. They are only good for a few more international competitions," said Angping, whose replacement has yet to be named by President Noynoy Aquino.
Angping said that the PSC has improved the training facilities of the athletes under his watch so the time is right for the next chairman to recruit new talents.
"We should start recruiting new young talents as they will still be there and training after four years," said Angping.
Angping said that he also hopes that the new chairman will continue in giving P2 million incentives for gold medal winners in the Asian Games. Under Republic Act 9064, a gold medalist in the Asian Games is only entitled to win P1 million but Angping doubled the pot.
"It is more than enough to provide what the athletes deserve because it's hard to meet the standard of at least a bronze medal in the Asian Games," said Angping.
"They have four months to go to meet the bronze medal mark. Once you reach that, it will be easy to win a silver and gold medal," Angping added.
Before stepping down as PSC chairman, Angping elevated taekwondo jins John Paul Lizardo and Marlon Avenido to elite athlete status after their successful campaigns in last month's 19th Asian Taekwondo Championships in Kazakhstan.
Lizardo won a silver medal in the finweight division while Avenido, competing in the welterweight class, settled for the bronze in the three-day tournament held at the capital city of Astana.
Lizardo lost to Thai Chutchawal Khawlaor in the final match while Avenido joined Sultan Kasimov of Kazakhstan for the bronze.
Lizardo and Avenido will now receive a monthly stipend of P20,000 along with world class training funded by the government sports agencyin preparation for the 2010 Asian Games in Guangzhou, China.
"I decided to give them incentives because if they win medals, you should show them your appreciation by rewarding them," said Angping.
Lizardo won a gold medal in the 2005 Southeast Asian Games while Avenido, one of the rising stars of Philippine taekwondo, won the 2009 UAAP Athlete of the Year along with a bronze medal finish in the 2009 Asian Martial Arts Games in Bangkok.
– JVP,