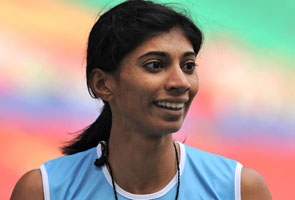 New Delhi:
India's new track sensation Ashwini Akkunji on Thursday rued lack of corporate sponsorship even after winning two gold medals in last month's Asian Games but still remains upbeat about a podium finish in the 2012 London Olympics.
Ashwini wants to become the first Indian woman athlete to win an individual gold in the Olympics but for that to happen she said she needs money to compete in the European circuit and top IAAF events.
"I want to become the first Indian woman athlete to win gold in Olympics. I have switched on to 400m hurdles just six months ago and my timing is very good. I can only improve from here. With some improvement in my technique I think I can cut down my timing by another two seconds at least and that should put me in medal contention in London," Ashwini said.
"I need to compete in the European circuit, in big events like Diamond League of the IAAF to improve upon my timing before the London Games. For that I need financial support but corporate sponsorship is not coming. I am looking for that," said Ashwini, who won gold in 400m hurdles and helped the 4x400m relay team to win a yellow metal in the Asian Games.
No now Ashwini has bit of a relief after Infinity Optimal Solutions (IOS) has offered her a deal of
R

s.
15 lakh for a year to become their brand ambassador.
IOS has taken the bio data of Ashwini and she has asked the company to give the details of the terms and conditions for the deal.
The 23-year-old from Siddapura village of Udipi district in Karnataka is upbeat that she can cut down a few seconds from her 56.15 effort in Guangzhou by reducing the number of strides between the hurdles and using both the legs to clear them.
Ashwini's leading leg to clear hurdles has been the left one since she first ran in a 400m hurdles in Kochi in May and she will work out along with her coaches to use right leg also to cut down her timing.
It is a common practice of world class hurdlers to interchange their leading legs during a race to preserve energy as using only one leads to loss of stamina towards the home stretch.
"I took to 400m hurdles from May only on the advice of my coaches (Yuri Ogorodnik of Ukraine and R S Sidhu) as they thought my long strides would suit for the event. I am hoping to cut down at least two seconds before London Games and that should put me in contention for a medal. Winning gold or not depends on the performance of the day," Ashwini gushed with confidence.
"I am using only the left leg to clear the hurdles but I will work on using both legs. If you are using only one leg you become tired towards the home stretch. Using both legs gives you the strength for the final flourish. I am now running with 15 strides in between the hurdles.
"I will work on running the first five hurdles on 14 strides and the rest five on 15 and that way I should be able to cut down at least two seconds," explained Ashwini.
Ashwini ran 56.15 secs in Guangzhou but she has to run sub-54 secs if she wants to be in contention for a medal in the 2012 Olympics.
The gold winner in Beijing Olympics had clocked 52.64 secs while the silver and bronze winners had timed 53.70 secs and 53.84 secs respectively.
Ashwini's coach R S Sidhu said she can cut three seconds with the technique as has been explained by her.
"If you are using only one leg you become tired towards the home stretch and so you need to change your leading leg to give you strength at the later half of the race. We are thinking she can cut down three seconds," Sidhu said.
One mark Ashwini said she will better in the lead up to the London Olympics is the national record of 55.42 secs in the name of legendary P T Usha, whom she said has inspired her to take to athletics.
"I was inspired to take to running after watching P T Usha and Ashwini Nachappa. I had grown up with stories of them bringing laurels for the country. If I can bring down my timing by at least two seconds then her (Usha's) record will be bettered. That is a bonus," said the lanky athlete, who took to running after she was first admitted at a sports school at Vidyanagar in Banaglore as a 13-year-old in 2000.
Ashwini said she wants to improve he timing in the Asian Championships in Japan in July next year and the World Championships in South Korea in August-September.
"Asian and World Championships are two big events. I want to improve my timing there. There I should be able to know where I am and how I am improving," she said.
She is also happy that Indian track and field athletes have produced impressive performances in both the Commonwealth Games and Asian Games.
"We have done really well in athletics in the CWG and Asian Games. I am really happy for that. There are sports other than cricket in which Indians can do well. I see athletics becoming a big sports in India in the next 10 years," Ashwini added.
It also makes runners to adjust themselves whenever the number of strides between hurdles has been increased or decreased from what they used to have.