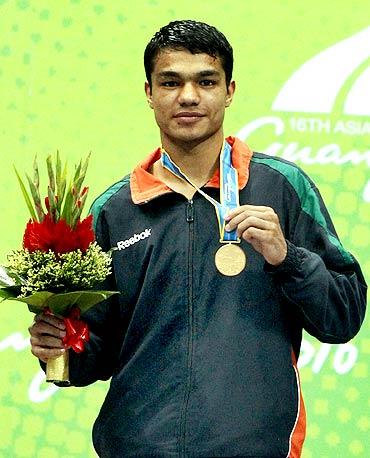 V

ikas Krishan ended Indian boxing's 12-year-old gold medal drought in the Asian Games by winning the lightweight (60kg) title but Dinesh Kumar (81kg) settled for the silver after losing in the finals in Guanghou on Thursday.

India had not won a boxing gold at the Asiad since 1998 when the flamboyant Dingko Singh fetched the bantamweight top honours and it took a little known teenager from Haryana to break the jinx.

The 18-year-old Vikas stunned defending champion Qing Hu of China 5-4 in the lightweight 60kg final that was low on thrill as the Indian decided to play defensive.

World Youth champion and a bronze-medallist at the inaugural Youth Olympics, Vikas kept a shell guard which ultimately proved impregnable for his rival.

With scores tied 1-1 at the end of the first three minutes, Hu pushed Vikas out of sheer frustration in the second round and was handed a warning which cost him crucial two points.

The warning ultimately proved decisive as the two boxers could manage just one scoring punch each in the final round, which was just enough for Vikas to repeat Dingko's feat.


Image:

Krishan Vikas of India holds his gold medal after winning the men's 60kg boxing event at the 16th Asian Games in Guangzhou
Photographs:

Reuters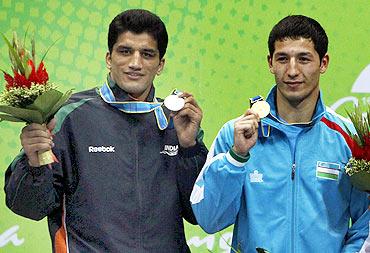 H

owever, Dinesh proved no match for defending champion Uzbek Elshod Rasulov and lost 4-10.
The Arjuna awardee was on the backfoot from the word go as Rasulov took the attack to him with a combination of powerful bodyblows and well-timed jabs.
Dinesh's attempted uppercuts could neither break Rasulov's defence nor fetch him any points.
Leading 1-0 in the opening round, Rasulov went on a rampage in the next two rounds and Dinesh found it extremely tough to keep pace with the proceedings.
Olympic and World Championship bronze-medallist Vijender Singh (75kg), V Santhosh Kumar (64kg) and Manpreet Singh (91kg) are the other three Indian boxers who would be fighting for gold on Friday.
Image:
Elshod Rasulov (R) of Uzbekistan stands with Dinesh Kumar of India after their men's 81kg gold medal boxing match at the 16th Asian Games in Guangzhou