Manel Dharmakeerthie, South Asia's most prominent International Wushu judge and referee, was once again included in the Elite panel of International Wushu Judges and Referees by the World Governing Body for Wushu, International Wushu Federation [IWUF] to serve in the forthcoming 16th Asian Games' Wushu Competition to be held from 13th to 17th of November 2010 at Nansha Gymnasium in Guangzhou, China.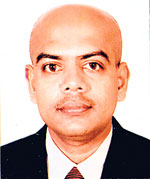 Manel Dharmakeerthie
Dharmakeerthie who pioneered to set up Contemporary Wushu as a National Sport in Sri Lanka and South Asia came to limelight as an International Judge in 2001 passing his Diploma and obtaining his International Judging License from the IWUF International Judge and Referee Examination held in Macau , China. The same year he served as an International Judge at the 06th World Wushu Championships held in Yerevan, Armania.
For his excellent performance as a Judge IWUF Technical Committee immediately invited him to serve in the Elite Panel of IWUF International Judges at the first ever Sanshou [Combat Event of Wushu] World Cup held in Shanghai, China in 2002. Since then he is a permanent member of the prestigious panel and has served in three World Wushu Championships (eighth WWC in Hanoi, Vietnam in 2005, ninth WWC in Beijing, China in 2007 and 10th WWC in Toronto Canada in 2009, all 04 Sanshou World Cups held to date (second SWC in Guangzhou, China in 2004, (third SWC in Xian, China in 2006, and fourth Sanshou WC in Harbin, China in 2008).
Wushu was included first time in the International World Games in 2009 in Kaohsiung in Taiwan and Dharmakeerthie served there too as an International Judge. Pinnacle of his International Judging career was the Beijing Olympic Wushu Tournament held in 2008 during the Olympic Games in China. "Only the very best of the World serve as judges in Olympics and it's a great honour to be invited to serve in that Competition" says Dharmakeerthie.
Being an International promoter of the World's oldest Martial Art ,Wushu of which has 139 member Countries in its World Body IWUF, Dharmakeerthie pioneered to include it in the 10th South Asian Games held in Colombo Sri Lanka in 2006 with the help of National Olympic Committee and Ministry of Sports of Sri Lanka. Now he works hard to introduce Wushu into Commonwealth Games.
"It too will be a reality soon" he says. Dharmakeerthie was instrumental in setting up Wushu Federation of Maldives and getting the NSC recognition for Bangladesh Wushu Association. He serves as the Secretary General of South Asian Wushu Federation (SAWUF) and a Member of the Traditional Wushu Committee of Wushu Federation of Asia (WFA).