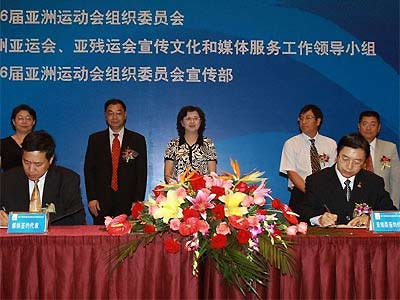 A contract-signing ceremony hosted by the Guangzhou Asian Games Organizing Committee with media responsible for promoting and covering the Games, in Guangzhou, July 9, 2010. [www.

gz2010.cn

]
Guangzhou - Another grand meeting of sports media focusing on China set off in Guangzhou as the city signed contracts with media giants.
On Friday afternoon, the Guangzhou Asian Games Organizing Committee hosted a signing ceremony of contracts with media responsible for promoting and covering the Games opening in November.
"Asian Games is not only a big party for the athletes," said Wang Xiaoling, the director of Games Communication and Promotion Department of the Organizing Committee. "It's also a party for the media."
So far, the committee has received 9,300 media applications, from home and abroad, to cover the Games. It is estimated that by July 30, nearly 15,000 reporters will register as Games correspondents, according to Wang.
The total population of Games service is 35,000, which means almost half of the participants involved in the Games will be journalists.
Signing this contract "only means the media have to shoulder their duty in reporting the Games," said Liu Hui, in charge of the signing ceremony. "But they just own the non-exclusive license."
Representatives from 12 national and provincial presses, including People's Daily, China Daily, Guangming Daily, and Guangzhou Daily, signed the contract with Luo Jingjun from the Organizing Committee at Shangri-La Hotel, Guangzhou.
The 16th Asian Games counts as the first international Games held in China after the 2008 Olympic Games, and Guangzhou, the host city, has been preparing since the end of last year.
However, a survey showed on Wednesday that half of Guangzhou residents believe the promotion of the Games fell far behind other events. Slogans, color flags and advertisements are not that easy to see across the whole city, according to the political consultative conference of Guangzhou.
Wang Xiaoling said the main labor force covering the sports will be the national and local media. Pei Minhui, deputy chief of Guangdong Bureau, People's Daily, represented all media at the ceremony, saying the ways of reporting by the media with different characteristics differ from each other but they definitely share the same goal.
Besides regular reporting, China Daily will be involved in editing and publishing a 16-page all-color Games special periodical in English as soon as they are allowed to enter the Asian Games Village later this year.
Last time the country hosted the Games was in the city of Beijing in September 1990. This year the Games will begin on Nov 12.