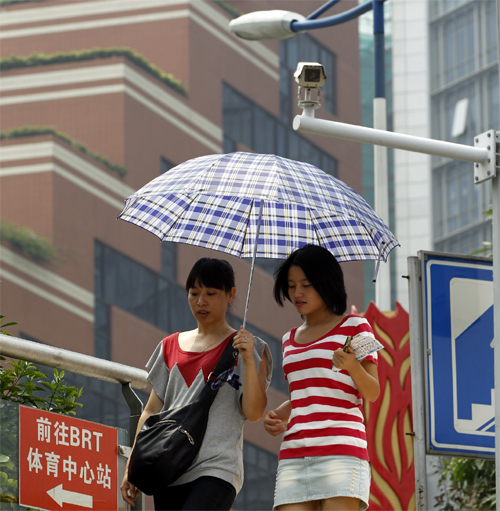 Two women walk past a surveillance camera on Monday in Guangzhou, capital of South China's Guangdong province. [China Daily]
You have entered into an area that is being monitored by an intelligent video surveillance system," read the black Chinese characters on a board near an entrance to Huaqiao Xincun on the busy Huanshidong road in Guangzhou's Yuexiu district.
Behind the board is a tiny surveillance camera, which is operational round the clock.
Huaqiao Xincun is just one of thousands of corners in Guangdong's provincial capital, which is gearing up to host the 16th Asian Games in November, where video monitoring cameras have been installed recently.
Sources in the Guangzhou department of public security revealed that so far, more than 268,000 video cameras have been installed citywide as part of efforts to boost security.
According to the police, video cameras have been installed in every street and lane in the city, particularly around the major venues for the Asian Games.
Moreover, the video monitoring network links every public place to the crime reporting centers in the southern metropolis, which had one of the highest crime rates among cities on the mainland.
"The video surveillance system, which is expected to help further reduce the crime rate, is part of the police efforts to introduce scientific means to ensure security for the coming Asian Games," said a police officer, requesting anonymity.
Guangzhou residents have welcomed the video cameras with open arms.
The large number of monitoring video cameras can help deter suspects from committing crimes in public places, said Wang Wenshan, a white-collar worker from the city's Tianhe district.
"The video cameras will contribute to the improvement of Guangzhou's social security and help ensure social order for the Asian Games," she told China Daily.
The city should have installed such video cameras many years ago, she added.
Chen Yuying, a resident in Yuexiu district, said the video cameras can enable the police to arrive at the crime scene quickly.
Last year, Guangzhou had equipped all of its public buses with video cameras to help fight pickpockets and robbers.
The cameras are fitted in the front, middle and rear of all of the city's more than 8,000 public buses.
The number of pickpocket, robbery, and sexual harassment cases in public buses have witnessed a notable reduction since the video surveillance system came into operation.
Source: China Daily