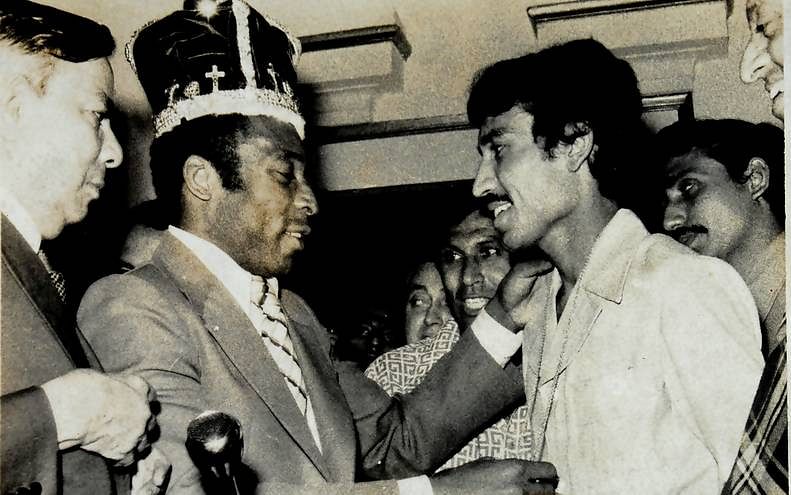 Thirty one years ago, wiry and slim Prasun Banerjee was a member of the Indian football team which reached the quarter finals of the 9
th
Asian Games in Delhi. He scored both the goals, with blistering left footed shots from outside the box, in the 2-0 win over Bangladesh. In the group league phase, he then helped India beat Malaysia 1-0 and draw 2-2 with China. Playing in the 4-3-3 system, the hallmark of India's display was their superlative midfield trio – Parminder Singh on the right, Prasun as the central holding midfielder and Prasanta Banerjee on the left. Experts like P.K. Banerjee and Arun Ghosh consider this trio as India's best midfield in the modern era.
Three decades ago, Prasun was India's leading playmaker. Now, he has started a new career; a new jostling match. Prasun is the first international footballer from India to be elected to the Lok Sabha. He is close to the Trinamool Congress (TMC) head and Bengal Chief Minister, Mamta Banerjee, and thereby, contested the Howrah Lok Sabha constituency on a Trinamool ticket. He won the seat defeating his adversary Left Front's Sridip Bhattacharya by more than 27,000 votes.
Internationals from other sports have been elected to India's Parliament, Chetan Chauhan (cricket) and Jaipal Singh (an MP from 1947 till 1970 when he expired), Aslam Sher Khan and Dilip Tirkey (hockey). It is to be seen now how Prasun makes the transition from the football field to the hallowed precincts of the Lok Sabha. He should have a successful political career also because even during his playing career, he was very diplomatic, had a suave temperament, was affable and knew how to win friends.
Prasun has another claim to fame also. He is the younger brother of India's player of the 20
th
century and former national coach, P.K. Banerjee. During his playing days, Prasun was often needled by journalists who said that he owed his international career to his elder brother. He never let such barbed comments affect his game or his relationship with the media. He always maintained that the Indian team is selected on merit.
In the build-up to the 1982 Asian Games, there was much speculation about who would play as the left midfielder as both Prasun and Prasanta played in that position for their respective clubs. In some practice matches before the 1982 Asiad, Prasanta was sidelined. He often used the regional media to say that he was being dropped due to nepotism and that P.K. would never drop his younger brother. Amidst all this controversy, Prasun remained unruffled and never made provocative comments. His nascent political career had already started.
Gradually the Indian think tank, coach P.K. Banerjee, assistants Arun Ghosh, SS Hakeem, Ahmed Hussain and GMH Basha and foreign technical director Dietmar Pfeiffer (of erstwhile East Germany) worked out an effective compromise. Prasun was shifted to the central midfield spot and Prasanta played as an attacking, left sided midfielder. They ploy worked as Parminder was the midfield dynamo, Prasanta the creative player, and Prasun would link defence and attack with astute passes. All three were capable scorers and that's what made them so effective.
He had a calm temperament and avoided controversy. However, Prasun could take a firm step when required. On 19 February 1981, just before the transfer season in Bengal 21 players, 19 from Bengal and one each from Kerala and Andhra Pradesh, walked out of the national camp for the 1982 Asian Games in defiance of their parent body. Their loyalty lay with the lucrative club offers rather than the national team. Prasun was amongst the ring-leaders in this walk-out. The All India Football Federation (AIFF) used elder brother P.K. to influence Prasun and the deserters but of no avail.
Though labeled as "rebels" and "deserters" and condemned by Prime Minister Mrs. Gandhi and Bengal Chief Minister Jyoti Basu, the players remained defiant. The pragmatic Field Marshal Maneckshaw, president of the defunct All India Council of Sports, negotiated a compromise. He compelled the AIFF to compensate all players on national duty with Rs. 2,000 per month. Prasun used player's power to ensure his team-mates got their dues.
During his playing days with Mohun Bagan, he and Gautam Sarkar formed an effective combination in midfield and were considered the best in the country. Noted for silky skills and sublime passing, Prasun played a memorable role in his club Mohun Bagan's four Durand triumphs in 1974, 1979, 1980 and 1982.
In the 1974 Durand final played at the National stadium, Delhi, Mohun Bagan were the underdogs against JCT for whom striker Inder Singh was in prolific goal-scoring form. However, playing skilful, short passing, possession football, Bagan won the final 3-2 with a hat-trick by winger Ulaganathan, the first in the Durand final since Independence. Playing in his first Durand final, Prasun initiated many attacks with his subtle passing. He also combined effectively with forwards P. Kannan, Ulaganathan and Swapan Sengupta to harass the rugged JCT defence.
Five years later, he scored a memorable winning goal for Mohun Bagan against Punjab Police in the 1979 Durand final. Defending in depth, Punjab Police foiled many Bagan attacks and it seemed the match was drifting to extra time. However, in the 79
th
minute, Bagan earned a free kick some yards outside the 18 yard box. Prasun scored with a crisp, curling left footer, reminiscent of his favourite players, the great Brazilian midfielders Zico and Falcao of 1982 World Cup fame.
The 1980 Durand final was his finest hour, as a makeshift Mohun Bagan took on star-studded Mohammedan Sporting. With Pradip Chowdhury and other central defenders injured Bagan's coach Arun Ghosh converted striker Shyam Thapa into a stopper back. Thapa and Subrata Bhattacharya had to control a lethal Mohammedan Sporting attack which included Surojit Sengupta, Mohammed Akbar, Shabbir Ali and Debashish Roy. That year Mohammedan Sporting had annexed the DCM tournament, the Rovers Cup and was on the look-out for a triple crown.
Both clubs had won their semi finals in contrasting styles. Mohammedan Sporting had easily overcome sturdy Border Security Force (BSF) 3-1 but Mohun Bagan had struggled to prevail over JCT in the penalty shootout after the match ended in a 1-1 draw. Prasun scored the winning goal in the penalty shootout. He was invariably trusted with the last kick because of his calm temperament.
The final played on a wet and slippery Ambedkar stadium surface was one of the finest games seen in the Durand tournament for many years. Both teams played entertaining, attacking football. It was a battle of midfield and Bagan wrested the initiative due to the sublime skills and ball distribution of Prasun and Gautam Sarkar. They won the duel with the Mohammedan Sporting duo of Victor Amalraj and Prasanta Banerjee. The winning goal came midway through the second half when Prasun's deft through pass set winger Bidesh Bose free on the left. Bidesh cut in and scored with a rasping left footed angular shot.
The 1982 Durand final was played after the 1982 Asiad in January 1983 between arch rivals East Bengal and Mohun Bagan. The clash of the titans ended in a goalless draw and they shared the trophy. From 1974 to 1983, Prasun figured in six Durand finals, winning four and losing two in 1978 and 1983.
A man of big occasions, Prasun always remained calm and collected. During his playing days, he had steady and regular habits. He would wake up early and go for a morning walk. He always had his meals at fixed hours. A religious man, before a final or big match, he would often visit a temple in the morning and seek divine blessings. Yet, he has also embraced modern technology and has many friends on Facebook and Twitter.
He was always respectful to his seniors. Legendary coach SA Rahim's fiftieth death anniversary was on 11
th
June 2013. On that day Prasun, despite a hectic schedule as he had only been recently elected, wrote a wonderful tribute to Rahim eulogising the former national coach's achievements and modern coaching methods. A good listener and helpful by nature, Prasun has all the qualities to be successful in public life as he embarks on his new political career.