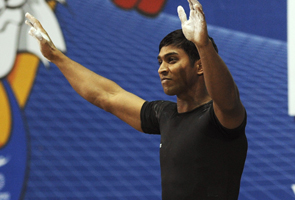 Dope menace ebbed a bit in Indian weightlifting but the country's lifters produced below-par performances in the two multi-sporting events of the year - Commonwealth Games and Asian Games - in which they were allowed to take part only after paying a hefty fine to the international parent body.
India were allowed to take part in the CWG after the Organising Committee gave the national federation
R

s.
1.75 crore as loan to pay the last two installments of USD five lakh fine imposed by International Weightlifting Federation after six lifters flunked dope tests in 2009.
The lifters though failed to live up to the expectations as they could win just eight medals, including two gold, a far cry from the 27 - 11 gold, nine silver and seven bronze - in 2002 Manchester Games and less than the three gold, five silver and a bronze the country won in Melbourne in 2006.
K Ravi Kumar (men's 69kg) and Renubala Devi (women's 58kg) bagged the gold while Monika Devi (women's 75kg), drafted late into the squad after serving a two-year ban following her controversial dope flunk just before the 2008 Beijing Olympics, settled for a bronze. Geeta Rani (women's +75kg) failed to defend her Melbourne gold and finished fourth.
The Delhi performance was the worst for Indian weightlifters since 1990 when India began scooping rich haul of medals in Commonwealth Games and that came when the mega event was held at home.
Commonwealth Games are one multi-sport event in which Indian weightlifters have done well in the absence of strong contenders China, Central Asian countries, South Korea, Turkey and Russia. From 1990 till 2002, nearly half of India's total medals in every Commonwealth Games have come from weightlifting.
India, however, ensured that the dope shame of the 2002 and 2006 Commonwealth Games was not repeated in 2010 with the lifters coming out clean to the relief of the national federation officials who took charge in December 2009 after the earlier executive was forced to resign en masse in the aftermath of six lifters testing positive.
The only lifter who tested positive this year --Sanamacha Chanu -- was luckily not selected for Commonwealth Games squad. She was caught for doping at the selection trials for the CWG.
Manchester Games gold medallist Chanu (53kg) failed a NADA test for banned stimulant methylehexameamine in the samples taken in September in New Delhi. Chanu was the culprit in India's first international ban -- for one year -- in 2004 when she and Pratima Kumari flunked dope tests at the Athens Olympics.
Satheesha Rai and Krishnan Madaswamy were stripped of their medals in 2002 Manchester Games for flunking dope tests.
Four years later, Shailaja Pujari and Prameelavalli Bodari flunked WADA tests just before the Melbourne Games while Tejinder Singh and Edwin Raju were caught for doping during the Melbourne Games. That led to Indian lifters being banned for one year and missing the 2006 Doha Asian Games.
Except for Ravi Kumar (men's 69kg), India were not expected to win medals in the Asian Games in Guangzhou where the competition is much tougher. But, none of the lifters, including Ravi Kumar, could produce their best leave alone improving their performances.
Ravi Kumar should have won a medal had he come up with his Commonwealth Games gold-winning effort of 321kg but he could only lift 311kg to finish a disappointing fifth. Another CWG gold-mdallist Renubala (58kg) had pulled out of the Asian Games due to personal problems.
The year began with the new dispensation in the Indian Weightlifting Federation deciding to take strict action against dope offenders in the aftermath of the six lifters testing positive in out-of-competition WADA tests in September 2009.
They were emboldened in their quest as the International Weightlifting Federation in January handed life ban on repeat dope offender Shailaja Pujari, who has won many medals for the country in 75kg category.
Vicky Batta, a 56kg silver winner in the 2006 Melbourne Commonwealth Games, Harbhajan Singh, Rajesh Singh, Sunita Rani and Vijaya Devi were banned for four years and fined USD 5,000 each.
Indian Weightlifting Federation followed suit two month later, by handing life bans on Vicky Bhatta, G Damodaran (105kg) and Rajesh Kumar Singh (94kg) for their second dope offences. The cracking of the whip seemed to have the desired effect as none of Indian lifters were caught for doping in the CWG and Asian Games.
Indian lifters did well in the youth and junior competitions in the Commonwealth and Asian level. They finished runners-up in the Asian Junior Championships in Tashkent, Uzbekistan with 10 medals -- two silver and eight bronze.
The girls' team were crowned champions in the Asian Youth Weightlifting Championships held simultaneously at the same venue.
But in the World Junior Championships in Sofia, Bulgaria in June, a 15-member Indian team failed to finish on the podium, the best performance being Srishti Singh's fifth-place finish in women's 75kg.
In Senior World Championships in Antayla, Turkey in September, India sent a nine-member second rung team as the top lifters were reserved for the CWG and expectedly all of them finished at the bottom half of the result chart.
N Sunilkumar was the best finisher at 17th place in men's 62kg.
India though ended the year on a good note with an impressive performance in Commonwealth Youth and Junior Championships in Penang, Malaysia this month by bagging 19 medals, including nine gold.