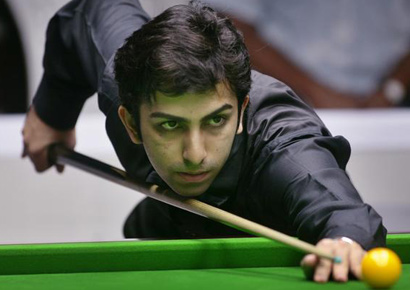 Pankaj Advani
Cue sports medal winners in the Guangzhou Asian Games, led by Pankaj Advani, were honoured in Bangalore today with Alok Kumar's effort coming in for special praise.
Advani bagged billiards gold, Aditya Mehta, Brijesh Damani and Yasin Merchant secured silver in the snooker team event, while Aditya Mehta (snooker singles) and Alok Kumar (8 ball pool) bagged bronze.
At a felicitation programme organised by the Billiards & Snooker Federation of India (BSFI) and Karnataka State Billiards Association (KSBA), Advani was richer by Rs1.5 lakh as BSFI and KSBA handed him a cheque of Rs1 lakh and Rs50,000, respectively.
The silver-winning team walked away with Rs75,000, and the bronze winners pocketed Rs25,000 each, as the cue sports medal haul was hailed. Damani was not present because he was indisposed.
Merchant said he personally would like to dedicate the medal to KSBA as he expressed gratitude for the preparatory camp at KSBA which stood the team good stead at Guangzhou.
He said the camp was of "highest order", "perfectly and methodically organised".
Merchant also said Alok Kumar was a revealation in the Asian Games, putting his heart into every shot that he has played.
"Alok Kumar's medal was bigger than all of ours", he remarked, a view echoed by Advani subsequently.
Advani said, "...I totally agree Alok's performance stood out in the cue sports," noting that he beat a world champion and a "guy" who played pool all his life, and winning a bronze in a tough draw was creditable.