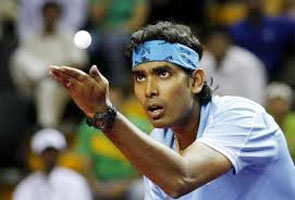 Guangzhou:
India endured another disappointing day in table tennis competitions at the Asian Games with only the men's doubles pair of Achanta Sharath Kamal and Subhajit Saha progressing to the pre-quarterfinals at the Guangzhou Gymnasium here today.
The Commonwealth Games gold medallist pair of Sharath Kamal and Saha lived up to their billing and took little time in outclassing Husain Albahrani and Mansour Alenezy of Kuwait 3-0 in their opening round encounter.
The Indian duo took just 12 minutes to get the better of Albahrani and Alenezy 11-7 11-4 11-4 and set up a clash against the Korean pair of Jungwoo Lee and Sang Eun Oh.
If Sharath Kamal and Saha's match was a cakewalk, their compatriots Soumyadeep Roy and Anthony
Roy and Amalraj offered little resistance as the Korean duo sent them packing (0-3) 5-11 5-11 7-11 in mere 13 minutes.
India's challenge also came to an end in the mixed doubles event as the pair of Sharath Kamal and Kumaresan Shamini went down fighting 2-3 to Seiya Kishikawa and Ai Fukuhara of Japan in the pre-quarterfinals.
Sharath and Shamini gave a tough fight to their opponents before bowing down 12-10 4-11 11-8 2-11 6-11 in their second round encounter which lasted little more than half-an-hour.