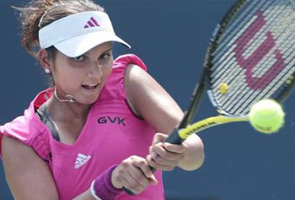 Indian tennis player Sania Mirza, who pulled out of the women's team championship due to throat and ear infection and is under medication, will take part in the singles and mixed doubles individual events in the Asian Games here.
According to a team official, Sania and Poojashree Venkatesh will be the two Indian singles entries for women and Somdev Devvarman and Karan Rastogi would play in the men's singles.
In mixed doubles, Sania, ranked 166th in singles in the world, will partner Vishnuwardhan.
Sanam Singh would partner Somdev while Rastogi would combine forces with Vishnuvardhan in men's doubles.
In women's doubles, the likely combination is Rushmi Chakravarthi with Poojashree and Nirupama Sanjeev with Tara Iyer.
Sania, who started practicing since Saturday, was forced to watch from the sidelines as the 2006 silver medal winners India lost 3-0 to Indonesia in the first round of the team event.
Disappointed at not being able to lead the Indian challenge, Sania told reporters at the Aoti Tennis Centre that it would not have been fair on her part in keeping out a fitter person.
"I was disappointed but I felt it was not fair to keep out a fitter person and I play and then lose as I am still feeling very weak because of the medication that includes 1500 gms of anti-biotics daily for ten days and I have been taking it over the last seven days," she said.
Sania said while the infection seems to have decreased but for a constant buzz in her ear, the weakness has not gone.
"I have started practicing since yesterday and wanted to have a good session today," said the Hyderabad-born player, who has come here with her mother.
Sania said the infection had started from her throat and spread to the ear and she still feels some pain under the ear.
"I think I picked it up while playing in Luxemburg. I had gone to two doctors at home and am taking medication."
Sania said, in her absence, Poojashree handled the pressure well in the team championship.
"Poojashree really played well. In the Asian Games, the competition is quite stiff. I had good support last time in Doha from Shikha (Uberoi) and we did not need to use our doubles teams till the finals as we went through with 2-0 margin," she said.
Sania, who had a career-high ranking of 29 a few years ago before injuries upset her progress, said she loved to have played in three individual events which is not permissible as per the rules.
"I wanted to play in three events, but the rules do not permit me to do so."
Meanwhile, the US-based player Nirupama said it was a "nightmare" to get tickets for the events in the Asian Games, reminiscent of last month's Commonwealth Games in Delhi.
"It's five times worse. I wanted my husband and daughter to come and see the matches today but no tickets were available. Yesterday too that was the situation officially but only 20 persons saw us playing (against Indonesia) in the stands," she said.
"There are also no booths to sell the tickets near the stadium," she said.
Nirupama also bemoaned the absence of Sania in on Saturday's tie against Indonesia.
"If Sania had been there we would have sailed through. I had to fill in, though I am more comfortable in doubles now," she said.