Sri Lanka's new hero Manju Wanniarachchi landed early last morning to a red carpet reception, amidst loud cheers from the crowd that had flocked to see the Commonwealth Games gold medallist.
A boxer who almost retired from the sport a few years back, Manju made a great comeback by doing his motherland proud, winning a gold in the sport after 72 years.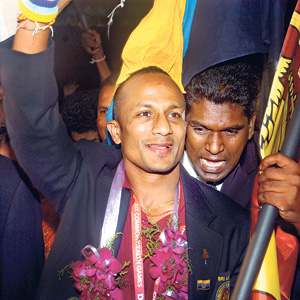 I did it for my motherland - Manju Wanniarachchi beams as he is mobbed by fans on arrival at the Bandaranaike International Airport. - Pic by Ranjith Perera

Manju, who was the cynosure of all eyes, while speaking to the Sunday Times upon his arrival, stated that the path to this achievement had not been a bed of roses. "I achieved this through hard work and determination. My childhood ambition during my schooldays at Vidyartha was to try and win medals at most of the international boxing meets like the Commonwealth Games, SAF Games, Asian Games and the Olympics. I am happy that I have cleared one of these hurdles.
"I came into the Commonwealth Games with one ambition that was to go for the gold medal and bring honour to my motherland and I achieved that. The credit for my victory should no doubt go to Mr. Dian Gomes as he is the one who encouraged me to carry on my boxing when I wanted to retire way back in 1999.
"And now my next aim is the 2012 Olympics, for which I will use all my effort and dedication to gain qualification and aim for a medal. Lastly I would like to thank all my coaches, going back to the time I got involved in boxing during my schooldays and Slimline for giving me all the encouragement and support, motivating me to reach great heights in boxing."Coach Harsha Kumara, who was responsible for fine tuning Manju's approach to the fights, said, "We went four days before the meet. During the training session we first looked at the list of participants in the draw. There was a boxer from Mauritius who had won a bronze medal at the 2008 Olympics and an Indian boxer who had won the gold medal at the previous Commonwealth Games in Manju's category.
"The draw to some extent was an advantage as Manju's three opponents before qualifying for the final were all from the African countries. When Manju won the first two bouts we had the confidence that he could make it to the final and of course it was Mr. Dian Gomes, who was a tower of strength behind all this success. What Manju needs now is the fullest support in aiming for a medal at the 2012 Olympics and he has the potential to make that dream come true for Sri Lanka."
"We achieved what we aimed for," said a delighted Dian Gomes, the manager of the boxing team to the Commonwealth Games, who could also be deemed the godfather as he is the man behind the resurgence of Sri Lankan boxing in the recent past.
"Our main hope was Manju and we knew that it was going to be a tough assignment for him. But I was confident when he won his first round convincingly that he could achieve his ambition of going for the gold medal. "I along with the coach Harsha Kumara never allowed him to give up and encouraged his effort. I had put aside everything on my schedule to be with the boxing contingent and I was determined to somehow fulfil our wishes.
"We have proven ourselves to those who criticised us, saying that we are spending too much on boxing without any result forthcoming, with this medal. So achieving a gold medal in boxing at the Commonwealth Games after 72 years is a great achievement which would encourage others to perform better. Though Kamal Sameera could not go very far he is another boxer who could go places in the future. Kamal lost to the eventual gold medallist so we are not discouraged.
We were able to produce a boxer to represent Sri Lanka at the Olympics after four decades in Anuruddha Ratnayake and now Manju is taking over the baton from Anuruddha and I am confident that Kamal will take it from Manju and keep the Sri Lankan flag flying. "We gave Manju the opportunity of training in the USA and other prominent countries involved in boxing and it has not got wasted as Manju has fulfilled our wishes and brought tremendous success and results. Our next aim is to encourage him to go a step further to get a medal in the Olympics, for which we have drawn up plans."
The celebrations of the medal winners was not short of hiccups as families of important members of the Sri Lanka contingent had to wait outside the VIP lounge gate till they were verified and given the green light to enter the premises by the Airport authorities.