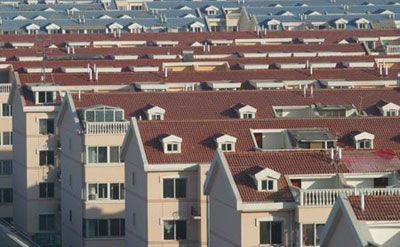 Although the housing prices in Beijing have been cooling down, rents are climbing.
The average rent of housing in Beijing was 2,885 yuan per month in May, up 20 percent on the level of the same period last year, according to statistics from Lianjia Property, a real estate agency in Beijing.
For example, a house with two bedrooms located near Beijing's third-ring road only cost 2,600 yuan per month to rent before May, but now costs 3,000 yuan per month. Additionally, to rent a single room only ten square meters large located in the same neighborhood costs at least 1,200 yuan per month.
"The lasting recession in the second-hand property market has made housing rentals the main source of revenue for real estate agencies. They have to rely on rentals to meet the cost of their overheads," a source who once worked as a deputy general manager of a real estate agency said.
Conflicts among real estate agencies have occurred recently in Beijing over clients, property and even advertising space, indicating a severely competitive market.
Aside from seeking more property to rent out, real estate agencies also try to make the most of existing housing. For example, agencies will divide a 130 square meter apartment into six separate rooms and then rent it out to about ten people at a total price of 7,500 yuan per month. The apartment owner only earns 6,000 yuan per month from his property; the real estate agency will earn about 15,000 yuan per year from a single apartment.
Seeking larger profits, some agencies even encourage homeowners to raise their rents. For example, when renting a one bedroom apartment, an agency will recommend the homeowner to ask for 2,800 to 3,200 yuan per month. Last year, the price of a one-bedroom apartment was only 2,000 yuan per month.
With severe battles taking place among real estate agencies, some have monopolized the rental market of certain housing communities in order to have more say in pricing them.
Rents are also on the rise in Shanghai.
As numerous recent college graduates move out of student housing and begin to rent homes, rents in Shanghai have increased by around 10 percent in the past month.
Another factor causing the increase in rent is the delay of the release of new local housing policies which has led to many potential home buyers to choose to wait and rent instead.
Additionally, with the World Expo underway, many tourists are currently renting houses in Shanghai and driving rents up.
Currently, the cost of renting an older apartment is somewhere between 1,300 yuan and 1,600 yuan per month, up 200 yuan since last year. The cost of renting apartments near schools and subway stations is around 3,500 yuan to 4,000 yuan per month. Even though many college graduates choose to rent an apartment together with their peers, each of them still has to pay a rent of around 1,000 yuan per month.
According to statistics from Michael Best, a consultancy firm, the average wage of Shanghai college graduates was 2,316 yuan per month in May; they have to spend over one third of their salaries on rent. That is a very heavy burden.
Guangzhou is also facing the problem of increasing rents. In preparation for hosting the upcoming Asian Games, the local government has dismantled many of the homes in villages inside the city. Previously, those villages had been a main provider of cheap housing rentals.
"In a single village called Yangji Cun, 40,000 people were forced to move out as the government began to demolish homes there, which, definitely, will make it more difficult to rent houses," Peng Peng, a researcher with the Guangdong Academy of Social Sciences, said. High housing prices also force people to rent rather than to buy.
Experts have recommended to the local government that they begin allowing college graduates into the system of government subsidized rentals which is currently only available for elderly and low-income residents.
Until the government decides to adopt such suggestions and put new housing policies into effect, citizens will have to keep waiting. The question is, how long will they be willing to put up with such an unfair situation?
This article was edited by Rose Scobie